Dr. Boyce was the pioneer of On-Line Condition Based Performance Monitoring in 1978. He is also the recipient of two major patents: one in the area of surge control and the other in the area of external combustion firing in gas turbines.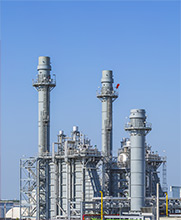 Credentials & Expertise
He has developed models for various types of power plants and petrochemical complexes. His programs are being used around the world in power plants, offshore platforms, and petrochemical complexes.
He is a consultant for major airlines in the area of engine selection, noise and emissions. His consultant expertise is utilized in the Aerospace, Petrochemical and Utility industries globally and is a much-requested speaker at Universities and Conferences throughout the world.
Project Development and Engineering in the U.S. and worldwide including design consultant on compressors, pumps, and gas and steam turbines for various manufacturers, such as Dresser, GE, Mitsubishi, United Technologies, Rolls Royce and Volvo.
Expertise including Heavy Fuels Combustion, Performance Evaluation of Combined Cycle Power Plants, Forensic Engineering and Expert Witness Testimony on Combustion Turbines and Steam Turbines and Compressors.
Research and Design on Various TurboMachinery Components:
Blades
Impellers
Combustors
Diffusers
Environmental Systems for Aircraft
Condition Monitoring:
Pioneer of the introduction of On-Line Performance Monitoring for
Large Rotating Machinery in Petrochemical and Utility applications in the world
Independent Power Project Development:
Financial Analysis and Preliminary Design
Combined Cycle and Cogeneration Plants: Design and Performance Testing
Heavy Fuel Combustion in Gas Turbine Operation:
Wet Combustors and Dry Low NOx Combustor
Troubleshooting Turbine and Compressor Problems
Consultant for Major Petrochemical Companies include
PETROSAR
POLYSAR
NOVA
TOTAL
OFFSHORE NATIONAL GAS CORPORATION
MOBIL OIL CORP
PEMEX
AMOCO NORWAY OIL COMPANY
NORSK HYDRO
PHILIPS PETROLEUM COMPANY
STATOIL
ESSO FERTILIZER
QATAR FERTILIZER CORPORATION
QATAR GENERAL PETROLEUM COMPANY
QATAR PETROCHEMICAL COMPANY
ARAMCO
UNIVERSAL OIL PRODUCTION – JEDDAH REFINERY
DUBAI FERTILIZER
DUBAI PETROLEUM
GASCO
BRITISH PETROLEUM
CONOCO
HAMILTON BROTHERS
HYDROCARBONS G.B.
MARATHON OIL
SHELL CHEMICAL
SHELL OIL CO.
ALLIED CHEMICAL CORPORATION
AMOCO OIL COMPANY
AMOCO CHEMICALS CORPORATION
ARCO OIL & GAS ALASKA
BRIDGELINE GAS HOLDINGS
COASTAL CHEMICAL CORPORATION
CHARTER OIL CORPORATION
COLUMBIA GAS TRANSMISSION CORPORATION COLUMBIA
NITROGEN CORPORATION
DOW CHEMICALS CORPORATION
ENERGAS, A DIVISION OF ATMOS ENERGY
ENTERPRISE PRODUCTS COMPANY
EXXON CHEMICAL
KAISER AGRICULTURE & CHEMICALS
KAISER ALUMINUM
KINDER MORGAN ENERGY PARTNERS, L.P.
OCCIDENTAL CHEMICAL
PHILLIPS 66
PRAXAIR, INC
ROHM & HAAS
SUN OIL CORPORATION
STATE OF ALASKA
UNION CARBIDE CORPORATION
CORPOVEN
LAGOVEN
MARAVEN
MENEVEN
PEQUIVEN
Consultant for Various Armed Forces and Civil Aviation Companies include:
PEACE HELICOPTERS
ROYAL SWEDISH NAVY
DEFENCE EVALUATION RESEARCH AGENCY
CONTINENTAL AIRLINES
U.S. ARMY
U.S. NAVY
U.S. AIRFORCE
Consultant for Various Government and Trade Agencies include:
DEPARTMENT OF ENERGY
DEPARTMENT OF JUSTICE
ELECTRICAL POWER RESEARCH INSTITUTE
KEMA
SABIC
Consultant for the Major TurboMachinery Manufacturers and Repair Facilities include:
IHI INDUSTRIES
KOBE STEEL
KAWASAKI
MITSUBISHI
TOSHIBA
THOMASSEN
VOLVO AEROSPACE
JOHN BROWN CORPORATION
ROLLS ROYCE CORPORATION
RUSTON TURBINES
BORGWARNER
CATERPILLAR TRACTOR CORPORATION
DAIMLER CHRYSLER
DELAVAL TURBINES
DRESSER CORPORATION
DRESSER RAND CORPORATION
GENERAL ELECTRIC CORPORATION
HOERBIGER SERVICES LTD.
SIEMENS WESTINGHOUSE POWER CORPORATION
SOLAR TURBINES CORPORATION
UNITED TECHNOLOGIES CORPORATION
HAMILTON STANDARD
TURBO-POWER AND MARINE
Consultant for Major Utilities and Independent Power Producers include:
BAHRAIN ELECTRIC
NORTHLAND POWER
PETRO-CANADA
CHINA LIGHT & POWER
TERMOFLORES S.A.
ELECTRICITY DE FRANCE
PUBLIC POWER CORP.
TATA ELECTRIC COMPANIES
TENAGA NASIONAL
CFE
EPON
GENA
WAPDA
SABIC
SCECO
SINGAPORE POWER
EVERPOWER
DUBAI GAS & ELECTRIC
ALUMINIUM
NATIONAL POWER
POWERGEN
THAMES POWER
AES WOLF HOLLOW
AES RED OAK
AMOCO PRODUCTION COMPANY COGEN
BLACK AND VEATCH
CALPINE CORPORATION
CENTRAL HUDSON GAS & ELECTRIC
CRS SIRRINE ENGINEERS, INC
DESERT POWER, L.P.
DOW CHEMICAL
ELECTRIC POWER RESEARCH INSTITUTE
E.G. & G. IDAHO
FLORIDA POWER & LIGHT
FOSTER WHEELER
GAYLORD CONTAINER COGEN
GULF STATE UTILITIES
HARRIS GROUP, INC.
INLAND CONTAINER COGEN
OLSEN-BEAL & ASSOCIATES
PUBLIC UTILITIES BROWNSVILLE
PRECO TURBINE & COMPRESSOR SERVICES, INC.
REVAK ENTERPRISES, INC.
SALT RIVER PROJECT
SPECIAL PROCESSES OF ARIZONA, INC.
SOUTHWESTERN PUBLIC SERVICE
TEXAS UTILITIES ELECTRIC COMPANY
TRACTEBEL USA
U.S. DEPARTMENT OF ENERGY
WATSON ENERGY
WESTERN ENERGY
WHEELABRATOR NORWALK ENERGY COMPANY
WICHITA FALLS ENERGY COMPANY
ZURN/NEPCO
CADAFE, CARACAS
ENELBAR – BARQUISIEMENTO
ENELVEN-MARACAIBO